As we know some of Seiyuu also pursue their career as singer, like Kamiya Hiroshi, Suzumura Kenichi, Ono Daisuke, Fukuyama Jun, Miyano Mamoru, Irino Miyu, and others. For female seiyuu, first that splash in my though is Mizuki Nana next are Sakamoto Maaya, Nakajima Megumi and others. Haha for female seiyuu only them that I like. But as far I know, I think Mizuki Nana has succeedeed to be a singer. She hold dome tour and also became guest singer in Kohaku Uta-Gassen last year. But this time I only post for male seiyuu. Hehe ;-) Let's check it out.
1. Miyano Mamoru (Mamo-chan)
Well, after his debut as a singer for five years, Mamo-chan polished his vocal and now his vocal is very good (for me). Wuaah... he also got some character casting that included his vocal as a singer like Uta no Prince sama (Utapuri), Kin'iro no Corda: Second Passo, and some otome drama CD like Scared Rider Xechs and Lucian Bee's. His single for Utapuri Character CD stay in top ten Oricon Chart (number 7). Wow for a Seiyuu is a tight competition with another professional singers. Mamo sugoi!!!
I applause for Orpheus and "Uta no Prince-sama - Maji Love 1,000% - Idol Song Tokiya Ichinose". His vocal is really really cool. And that song are really suitable for Mamo's vocal. I think Mamo really concerns about his career as a singer. He made many singles and his last single until this posting is Dream Fighter that being theme song for Ultraman Retsuden. Good job Mamo and continue to pursue your career as a singer. Ganbatte kudasai!!!
Check Mamo's Orpheus PV. It's very good.
2. Ono Daisuke (OnoD)
His notable voice for Sebastian Michaelis in Kuroshitsuji left high impression for people who love Kuroshitsuji and Sebastian. Haha. Kuroshitsuji is really sold out!!! One factor of the successful is Ono's role as Sebastian. First time I hear his vocal for Sebastian Character CD Song, I really dislike his vocal but after I hear Kinmokusei and Delight, he really impresses me. His vocal become better than before. Especially for Delight, it's really upbeat song that suit his vocal.
He will be better if he polishes his vocal more and more. Applause to him!!! And for Delight PV, he looks like cool haha. I think this style is suitable for him. Hahahaha. Kakkoi!!!
He also collaborated with Kamiya Hiroshi to make album for Dear Girl ~Stories~. These two persons have good terms, they hosts Dear Girl radio show and other radio shows together. Nakayoshi ne~
If you mind, check his latest PV Delight. His style is cool but rather a little um... haha I can't describe it but it looks gorgeous OnoD.
Check this PV but it's only for CM version (not full version). Hard to find full version.
3. Suzumura Kenichi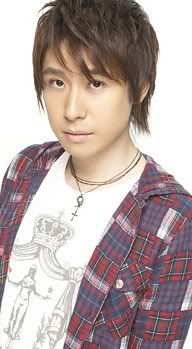 Last year he has married to fellow seiyuu, Sakamoto Maaya. Hee... ShinnXLunamaria couple have into reality. Haha but they have good chemistry. Noone can predict them to be couple and me too. Suzumura has a good voice especially in Climax Jum Den-Liner form, his rapping was very good. I very like that part. He also one of seiyuu that active as singer. Still produce single and album and also casting in Idol anime like Utapuri.
I hope he will continue to pursue career as singer. He is also one of member of KiraMune project with some fellow famous Seiyuu.
4. Irino Miyu (MiyuMiyu)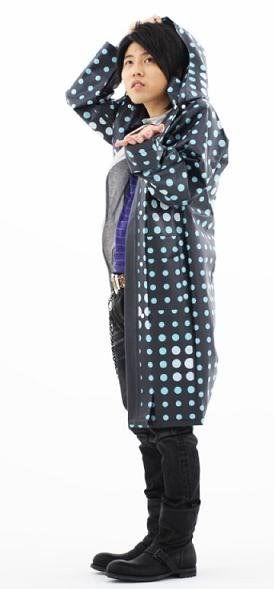 Irino Miyu is also member of KiraMune project. He is quite cute and has nice vocal. Especially his childish voice is very cute~ From Tsubasa Chronicle, he gain some popularity. But I like his vocal, rather nice and cute in some part. Haha. Well he is a good friend of Mamo-chan. He also a stage actor under Gekidan Himawari like Mamo-chan. They become fellow stage actor in Oda Nobunaga story, MiyuMiyu played as one of Nobunaga's trusty underling, Ranmaru Mori.
I wonder why my explanation become shorter after Suzuran... Haha... Sorry if I have more information I will add it.
5. Kamiya Hiroshi (KamiYan or Hiro-C)
Kamiya is one of famous seiyuu and he is active as singer. Well he is one of Kiramune project member. He has two albums, Hare no Hi (mini album) and Harezora. His vocal is quite deep, I like his PV although I think his vocal is average compared to another Seiyuu that become singer. (Sorry, my preference standard singer is very high :D). But I still like his voice. It's deep, quiet and calm.
He has good terms with some fellow Seiyuu, like Ono Daisuke, Fukuyama Jun (he also call him by Fukuyama's first name, Jun, I'm quite shock but when he call OnoD he call him by Ono-kun), Miyano Mamoru (they are seem very close, Kamiya always call Mamo by Mamo-chan. And in some event they are like Dad-Son figure. Haha. Mamo very respect Kamiya as good-senpai.), and Nakamura Yuichi.
He became host in several radio show and he is liked by his professional and good attitude towards anyone. Hmm so he is one of good model Seiyuu (I think he is similar with Yoo Jae Suk when he become host at several variety show and radio show. He has good attitude and quite funny.)
This is PV of Dual Wing (from Harezora album). Check it out, I like the sea scene, quite wonderful.
dualwing
by Bored4Lyfe
Lastly...
6. Fukuyama Jun (JunJun, FukuJun)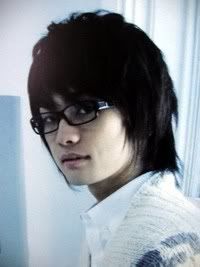 His notable role as Lelouch Lamperouge in Code Geass, really bring him high popularity but of course it's proven him as one of high-quality Seiyuu. His role as Sakanoue Gyamon with high-tuned voice, sweet teasing Grell Sutcliff or pervert Kishitani Shinra. Last year he became number one male Seiyuu in Anime Grand Prix Award. Congratulation to JunJun!!!
Fukuyama has three singles until 2011, I think he will release another single in this year. I applause him as Seiyuu but as singer I think he still have to polish his vocal to become better. JunJun gomen... But I still like his vocal haha...
His first single is Romantic World 31, with
Ki ni naru aitsu wa poncho ~ nu as PV. In this PV, we can see Fukuyama's preference toward fashion. Some fellow Seiyuu said his fashion style are unique and quite weird haha... He said in Macross Frontier Radio Show, he weared summer poncho in fall, and people stared him when he weared it at subway station XD
This is PV for
Ki ni naru aitsu wa poncho ~ n. Check it out, quite funny and relaxing.
Lastly his PV for
Premium LOVESONG
, I can't embed it to my blog so I only share the link. You can check at the title. Hehe... It's quite relaxing and romantic. The PV scene is at Saipan, it's quite famous place to shoot scene at sea. JunJun share some PV shoot photos at his blog and official facebook account. You can check it.
This is my preference order Seiyuu as singers but it will change when time goes by, may be. Haha... I will update more. Thanks ;-)